The Team
Defiance Game Studio is an indie effort by LordYabo in Toronto, Canada:
Thomas Henshell — Game Design, Programming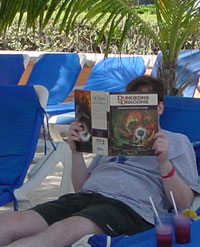 LordYabo, aka Thomas, is a self taught programmer who worked in business software for 15 years in predominately C++ and C#. The last 8 years were in mobile. But secretly, at night, when no one was watching, Thomas was building bits of game engines, add ons to games (like SimCity 4 Auto Saver). Thomas enjoys all types of games: Sports, FPS, Simulators, RPGs, Strategy, Business Management, Puzzle, Action, MMO, be they Mainstream or Indie, whether on Mobile, Console, or PC. He also enjoys table top gaming, such as Euro boardgames, Magic the Gathering, Space Hulk, Warhammer Fantasy, Flames of War, and GMing D&D campaigns. He was very excited to get his PS4 on launch day only to find out there are no good launch titles, so it is a giant over priced netflix watcher.  Thomas uses C# and Unity to create games.
Here in no particular order are the people on the Archmage Rises "team bus":
Rogier van de Beek – Primary 2D Artist
Almost every piece of artwork you've seen of Archmage comes from Rogier's hand.  I trolled Deviant Art for months and tried several artists before I found what I like to call "The Dutch Master."  Based in the Netherlands, Rogier has worked as a game artist on many titles from World War II to fantasy to Sci-Fi, but his favorite setting is fantasy. I'm impressed that he did card art for the World of Warcraft trading card game. You can see his impressive portfolio on Deviant Art.
Nic Biondi – Game Mechanics & Coding
Nic is an indie game dev at Soulareus who is currently working on Hard Lander a competitive physics-based four-player game. Nic is all about iterative development and game mechanics.  He is helping to ensure that each subsystem of Archmage Rises is fun on its own and fits within the whole.  When I need help with unity or coding, Nic is my "go to" guy.
Luis Levy and Jeannie Novak – PR & Marketing
If you've heard of Archmage Rises it's because of Luis and Jeannie  :-)  They are the principals at Novy PR, a firm they started in 2011 to focus on indie developers. Luis has worked in the game industry as a QA tester (Quake 4, Call of Duty 3) and wrote two books with Jeannie (who is the lead author and series editor of the Game Development Essentials textbook series). Together, they have helped countless PC and mobile games get exposure through their numerous press contacts.
Andrew Hoogheem – Story & Dialogue
Andrew has worked in the publishing industry for 10+ years, has a masters in English, is currently pursuing a PhD, and is a full-time professor teaching creative writing at Blackhawk College in Ohio. Andrew is not a gamer. This concerned him. He has read The Lord of the Rings, but not much other fantasy fiction. This also concerned him. He's never written for the video game medium before.  Thisreally concerned him.  I think these are all assets, not deficits.  Most video game writing is pretty terrible. There are tropes and cliché cheese a plenty.  I think bringing in an outsider, an expert in proper literature, is exactly what this project needs. I sent Andrew an excerpt from the beginning of Planescape: Torment. Once he read it, he immediately saw that video games can be a compelling written medium, and immediately signed on. You can see his LinkedIn profile.
James Maranetette – Sound & Music
James is a talented musician, composer, and effects artist.  We worked on some previous projects together.  He went to Full Sail for game music composition. We're going for a soundtrack that reimagines the genre and turns heads—like the Superbrothers: Sword & Sworcery EP soundtrack.  He is also excited about all the interesting sound effects he can make for the magic and ambiance in the game.  He lives in Portland, Oregon. You can listen to his tracks here.
Darryl Spratt – Graphic Design
Darryl is a fellow Canadian who went to school for graphic and game design. He has worked in the game industry and focuses on design and UI. I worked with Darryl before on a few projects and I've always been impressed with his work.  Darryl made the Archmage logo . . . twice.

  I was super happy with the first one, but the consensus was that it wasn't "hardcore" enough.  So he outdid himself making a second one.  You can see his portfolio here.